Stormy Pro Series - Belt-driven piston compressor
Piston technology
A piston compressor consists of one or more cylinders with pistons driven by a motor. The air is sucked into the cylinder and then compressed, in one or more stages to the operational pressure. After compression, the compressed air passes through the after-cooler and continues on to the air tank.
Application areas
Piston compressors are suitable for small compressed air requirements; one-stage compressors for pressures up to about 8 bar, while several stage versions can produce up to 15 bar. Operation should be intermittent. An air-cooled piston compressor's load level must not exceed 60-70%. After 2 minutes of compression, the compressor must rest for at least 1.5 minutes. We recommend keeping the total compression time per day to approximately 4 hours.
A comfortable and reliable piston compressor
STORMY PRO is an evolution of our belt driven professional piston compressors that brings even more features and efficiency to our product offer. This range consists of single and two stage designs. Single stage pump technology utilises a large cylinder bore and stroke that allows the pump to run at a lower speed, achieving important benefits such as low noise levels and improved user comfort. It also reduces working temperatures and mechanical wear and increases reliability.
Wheeled models 11 bar
Available from 2 to 5,5 HP, with four tank sizes up to 200 litres and in single phase and three phase.
Stationary models 11 bar 
Available from 4 up to 10 HP, from 270 up to 500 litres (plus a 270 litres vertical variant) and with star delta cubicle variant.
STORMY PRO 2HP to 5.5HP
Compressor type

 

Maximum working pressure

Air Displacement

Motor power


 

Noise level

 

 

Bar

l/min

cfm

RPM

hp

dB(A)

STORMY PRO 25C2MY / 25C2Y

10

255

9,0

1075

2

93

STORMY PRO 50C2MY / 50C2Y

10

255

9,0

1075

2

93

STORMY PRO 90C2MY / 90C2Y

10

255

9,0

1075

2

93

STORMY PRO 90C3MY / 90C3Y
10
393
13,9
1050
3
93
STORMY PRO 200C3MY / 200C3Y
10
393
13,9
1050
3
93
STORMY PRO 90C4Y
11
514
18,2
1400
4
96
STORMY PRO 200C4Y
11
514
18,2
1400
4
96
STORMY PRO 200C5,5Y
11
653
23,1
1000
5,5
95
STORMY PRO 270C4Y / 270F4Y
11
514
18,2
1400
4
96
STORMY PRO 270C5,5Y
11
590
20,8
908
5,5
95
Technical Specifications
STORMY PRO 5.5HP to 10HP
Compressor type

 

Maximum working pressure

Air Displacement

Motor power


 

Noise level

 

 

Bar

l/min

cfm

RPM

hp

dB(A)

STORMY PRO 270F5,5Y / 270F5,5XY
11
653
23,1
1000
5,5
95
STORMY PRO 500F5,5Y / 500F5,5XY
11
653
23,1
1000
5,5
95
STORMY PRO 500F7Y / 500F7XY
11
827
29,2
1250
7,5
102
STORMY PRO 500F7,5Y / 500F7,5XY
11
950
33,5
750
7,5
102
STORMY PRO 500F10Y / 500F10XY
11
1130
39,9
900
10
102
STORMY PRO 270F4W 400/50
11
514
18,2
1400
4
96
STORMY PRO 270F5,5W / 270F5,5XW
11
653
23,1
1000
5,5
95
STORMY PRO 270F7,5W / 270F7,5XW
11
950
33,5
750
7,5
95
STORMY PRO 270F5,5HWY
15
522
18,4
800
5,5
95
STORMY PRO 300F4HY
15
367
13,0
1000
4
96
STORMY PRO 300F5,5HY / 300F5,5HXY
15
522
18,4
800
5,5
95
STORMY PRO 500F7,5HY / 500F7,5HXY
15
760
26,8
600
7,5
102
STORMY PRO 500F10HY / 500F10HXY
15
942
33,3
750
10
102
STORMY PRO 500F7HY / 500F7HXY
15
626
22,1
100
7,5
102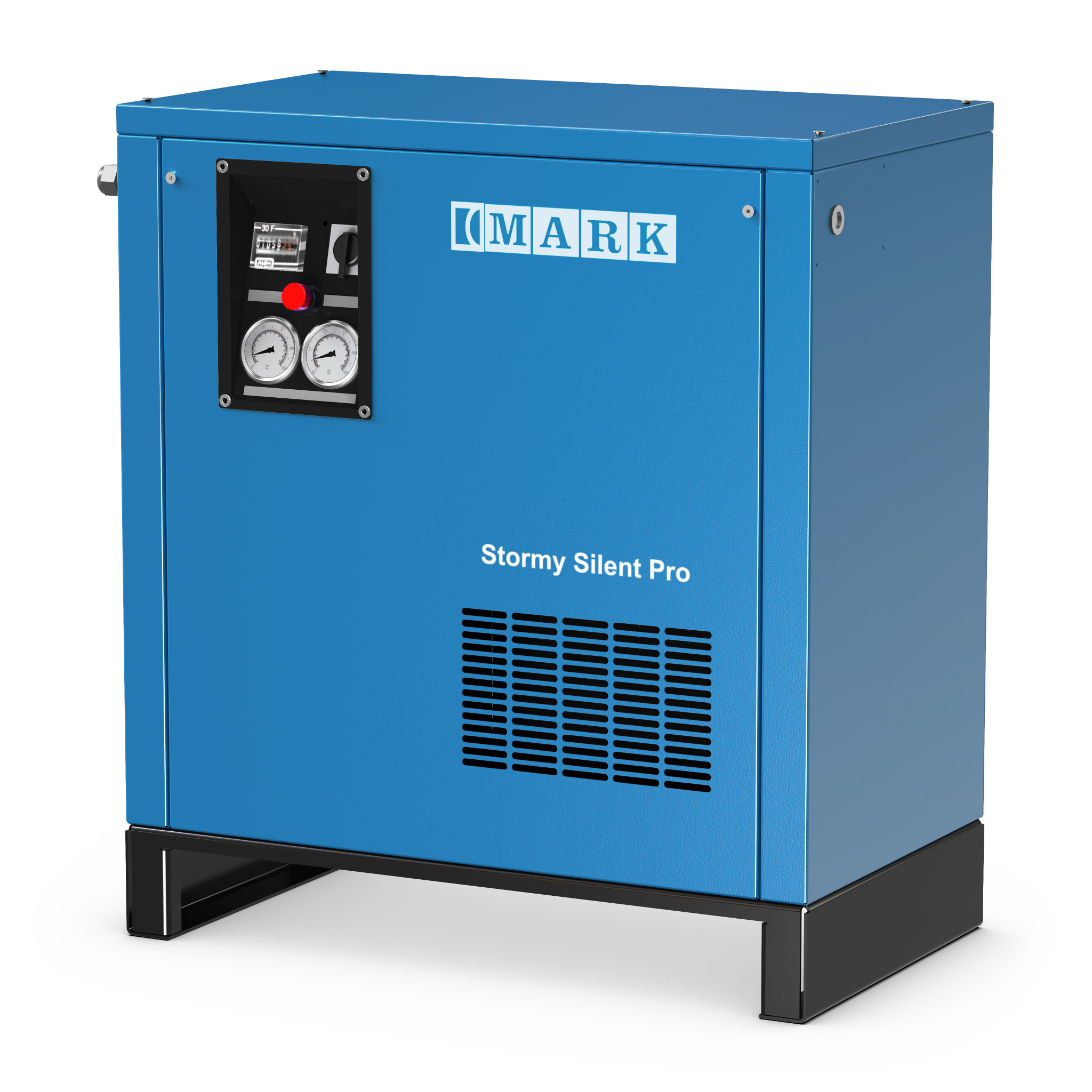 Dimensions
STORMY PRO 2HP to 5.5HP
| | | | |
| --- | --- | --- | --- |
| Model | Length mm | Width mm | Height mm |
| STORMY PRO 25C2MY / 25C2Y | 355 | 805 | 630 |
| STORMY PRO 50C2MY / 50C2Y | 395 | 840 | 710 |
| STORMY PRO 90C2MY / 90C2Y | 485 | 970 | 835 |
| STORMY PRO 90C3MY / 90C3Y | 485 | 970 | 890 |
| STORMY PRO 200C3MY / 200C3Y | 560 | 1400 | 990 |
| STORMY PRO 90C4Y | 485 | 970 | 890 |
| STORMY PRO 200C4Y | 560 | 1400 | 1010 |
| STORMY PRO 200C5,5Y | 560 | 1425 | 1210 |
| STORMY PRO 270C4Y / 270F4Y | 500 | 1490 | 995 |
| STORMY PRO 270C5,5Y | 610 | 1490 | 1315 |
Dimensions
STORMY PRO 5.5HP to 10HP
| | | | |
| --- | --- | --- | --- |
| Model | Length mm | Width mm | Height mm |
| STORMY PRO 270F5,5Y / 270F5,5XY | 500 | 1490 | 1190 |
| STORMY PRO 500F5,5Y / 500F5,5XY | 600 | 1940 | 1375 |
| STORMY PRO 500F7Y / 500F7XY | 600 | 1940 | 1375 |
| STORMY PRO 500F7,5Y / 500F7,5XY | 600 | 1940 | 1375 |
| STORMY PRO 500F10Y / 500F10XY | 600 | 1940 | 1375 |
| STORMY PRO 270F4W 400/50 | 600 | 680 | 1740 |
| STORMY PRO 270F5,5W / 270F5,5XW | 600 | 835 | 1950 |
| STORMY PRO 270F7,5W / 270F7,5XW | 600 | 940 | 1985 |
| STORMY PRO 270F5,5HWY | 600 | 835 | 1950 |
| STORMY PRO 300F4HY | 500 | 1640 | 995 |
| STORMY PRO 300F5,5HY / 300F5,5HXY | 500 | 1640 | 995 |
| STORMY PRO 500F7,5HY / 500F7,5HXY | 600 | 1940 | 1375 |
| STORMY PRO 500F10HY / 500F10HXY | 600 | 1940 | 1375 |
| STORMY PRO 500F7HY / 500F7HXY | 600 | 1940 | 1375 |